Time to complete module: 20 minutes
Routing allows you to define where work items go next and where they are loaded from. Start by watching the video lessons before practising in Simul8 using our pre-built assignment.
By completing the module, you'll learn:
The difference between Routing In and Routing Out
How to Route Out by Percentage, Priority, Sequence and Shortest Queue.
How to Route In by Priority, Collect and Expired Only.
You'll also find links to additional Routing methods in each module.
Trainer
Tom Stephenson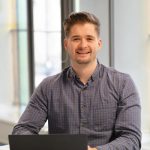 Over the past decade, Tom has overseen 100+ simulation projects across healthcare, contact centers, manufacturing and logistics. As a simulation expert Tom has presented at conferences in Washington DC, Hamad, Barcelona and the UK as well as guest lecturing for Universities in Canada, Italy and the UK.